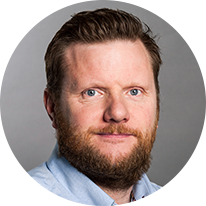 Gilsi Sigvaldason
CRO & Co-founder
,
CrankWheel
Hailing from Iceland, Gilsi is the co-founder of CrankWheel. Gilsi spent 15 years in various sales positions in the
financial and insurance industries, often traveling long distances only to show customers his laptop screen.
CrankWheel was founded in 2015 by Gilsi and Jói, his childhood friend who had just finished a 10-year stint at
Google as a tech lead. The purpose was to create an application that would allow salespeople to share their
screens to any device during sales calls. CrankWheel features Screen Sharing, Remote Control of presentations
and the ability to capture inbound leads and connect with them instantly. CrankWheel has over 50.000 users
from around the world in financial services, insurance, education, digital marketing and energy. It recently
acquired another sales tech startup - Accordium, a platform for e-signatures and video sales engagement.